General Surgery Residency Program
Program Director Welcome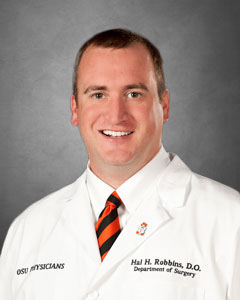 It is with great pleasure that I invite you to apply to the Oklahoma State University Residency Training Program in General Surgery. Our faculty and staff are dedicated to cultivating the academic surgical leaders of the future. Our educational curriculum combines clinical, technical, didactic and scientific training components in order to provide trainees with a well-rounded experience.
Upon completion of our program, graduates are highly trained surgeons with access to the complete range of surgical career opportunities including additional fellowship training and careers in academic surgical practice.
Sincerely,
Hal Robbins, D.O.
Program Director
Program Description
The General Surgery Residency Program at OSU Center for Health Sciences is a comprehensive, five-year program designed to produce a well-rounded surgeon ready for active practice upon graduation or advancement to a specialty surgery fellowship.
Our primary teaching hospital is the OSU Medical Center. Residents also rotate at various training sites during their residency including St. Francis Hospital, Hillcrest Medical Center, Cancer Treatment Centers of America – Tulsa, Integris Baptist Hospital – Oklahoma City, St. John Hospital and Bailey Medical Center.
Resident responsibilities include active patient management (both medical and surgical), participation in surgical didactics, performance of research, and involvement in training of third and fourth year medical students and off-service interns.
Surgery residents gain valuable experience surgical fields such as advanced laparoscopy, colorectal, endocrine, breast, robotics, endoscopy, chronic wound care, bariatrics, plastics, thoracic, cardiovascular, vascular, transplant, pediatric, oncologic, hepatobiliary, burn, research, and trauma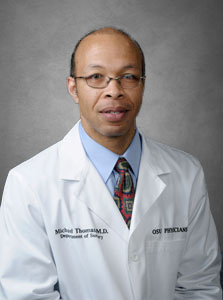 Michael Thomas, M.D., FACS
Chairman, Department of SurgeryClinical Associate Professor of Surgery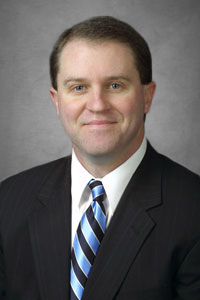 Brian Diener, D.O., FACOS
Vice-Chairman, Department of SurgeryProfessor of Surgery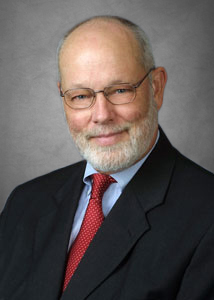 Douglas C. Foster, D.O., FACOS
Professor of Surgery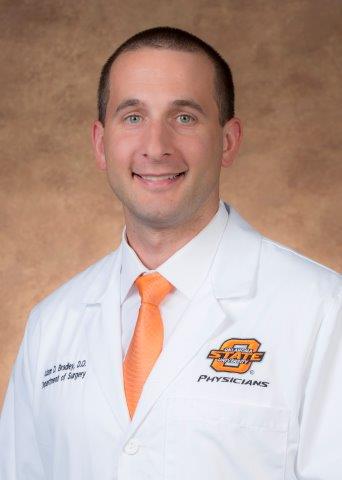 Adam Bradley, D.O.
Assistant Professor of SurgeryAssistant Residency Program DirectorCoordinator of Fourth Year Electives and Physician Assistant Studies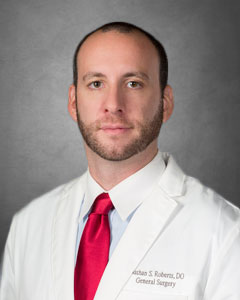 Nathan Roberts, D.O., FACOS
Assistant Professor of SurgeryCore Student Coordinator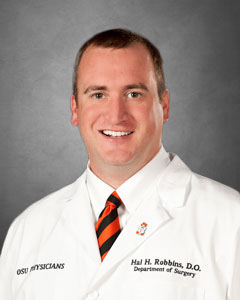 Hal Robbins, D.O., FACOS
Assistant Professor of SurgerySurgery Resident Program Director
Staff - Karen Muse
Practice AdministratorPhone: 918-747-5322Fax: 918-746-7604
Staff - Kimbra Freeman, LPN CPC
Residency Program/Student CoordinatorPhone: 918-747-5322Fax: 918-746-7604
Salary/Benefits
Salary effective January 1, 2020

| PGY 1 | $51,322.00 |
| --- | --- |
| PGY 2 | $53,069.00 |
| PGY 3 | $54,958.00 |
| PGY 4 | $56,952.00 |
| PGY 5 | $58,858.00 |
| PGY 6 | $61,055.00 |
| PGY 7 | $63,507.00 |
Benefits
Sick leave
Vacation leave
Employee medical/dental insurance at not cost to residents
Family medical and dental insurance available
Optional retirement program
Moonlighting available for fully-liscensed residents per program policy
Research opportunities available
Residents/Fellows will pay a portion of their monthly health insurance premium plan selected by the medical center.
General Surgery Residency Program
Program Information -

Residency Programs -

Fellowships Programs -