Obstetrics & Gynecology Medicine Residency Program
Program Director Welcome
Welcome to the Oklahoma State University family, home of the Obstetrics & Gynecology Medicine Residency! We hope you find our website full of specific information about our residents, faculty, alumni and staff. All of the information about our curriculum, salary, benefits and training facilities can be found throughout this website. My hope is that you not only find the information needed but that you are able to see what makes our training environment at OSU such a wonderful place as you accomplish your goals and dreams of becoming a Obstetrics and Gynecology physician.
Our academic sponsorship by Oklahoma State University, combined with our status as one of the largest training hospitals in the United States, means that our residents get the "best of both worlds." Our diverse and extremely talented faculty wear many hats: they teach at state and national meetings, are recognized leaders in the community and are passionate advocates for whole-person-based primary care. All of our residents learn comprehensive women's health care, which includes surgical training, community medicine and tremendous experience in clinical medicine-based hospital care. At the same time, our Oklahoma State University connection gives our residents access to significant academic resources and medical student teaching opportunities right here in Tulsa, a haven of Southern comfort and cosmopolitan style in the expansive Oklahoma plains.
We look forward to sharing our enthusiasm with you. We are passionate about what we do and whom we serve. When we ask residents, faculty, and staff what they most like about our residency program, the answer is universally "the people" and the sense of belonging to a learning community that feels like a family. We want to continue to attract people who share our dedication to serving those who need it the most. If you are committed to caring for the underserved and seek training in an academically rigorous yet "hands-on" learning environment, please be sure to contact us.
Sincerely,
Lance Frye, M.D.
Program Director
Program Description
Since its initiation in 1982, this four-year residency program has trained more than 100 obstetricians and gynecologists practicing successfully across the nation. Currently, the program trains two OSU and three OMECO residents annually. Rotations in addition to obstetrics and gynecology include maternal fetal medicine, reproductive endocrinology and infertility, gynecology oncology and urogynecology.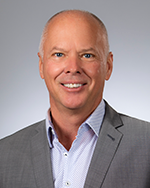 Lance T. Frye, M.D., FACOG
Department ChairClinical Associate Professor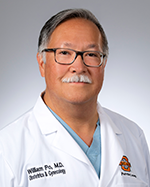 William D. Po, M.D., FACOG
Program DirectorClinical Professor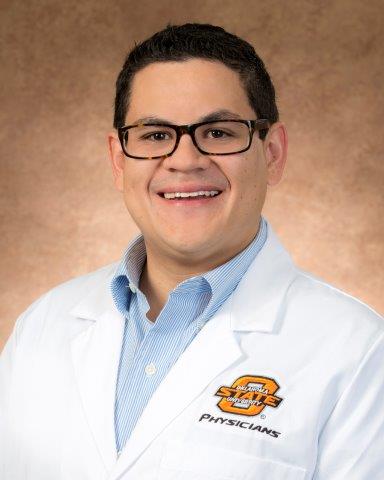 Carlos M. Guevara, D.O.
Clinical Assistant Professor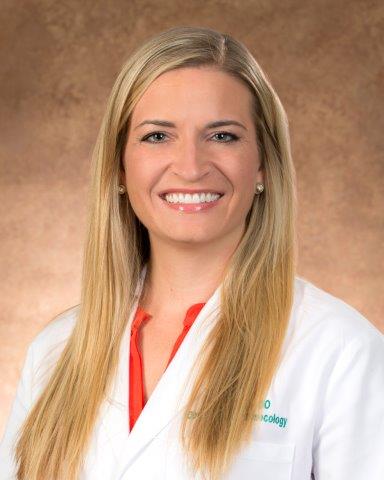 Erin E. Brown, D.O.
Clinical Assistant Professor

Staff - Bethany Garcia
Nurse Practitioner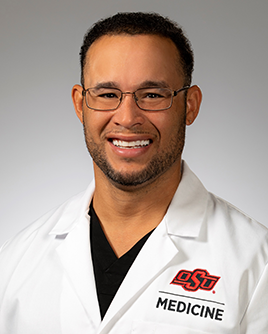 Ryan Gholson, M.D.
Clinical Assistant Professor

DJ Vargas
Medical School: OSU CHSUndergrad: OSUHometown: Wellington, KSHobbies: Golf, Tennis, Fishing, Hunting, anything outdoorsInteresting fact: I once went noodlin' in the Ninnescah river and caught a 35lb catfish that broke free from my hold and stole my Apple Watch. So somewhere in South-central Kansas is a catfish worth $600.

Alex Schnaderbeck
Medical School: Rocky Vista University College of Osteopathic MedicineUndergrad: Colorado State UniversityHometown: Monte Vista, COHobbies: Camping/overlanding, drone photography (very much a novice), travel, fly fishing, snowboarding, exploring craft breweries, and being outside in general.Interesting fact: Worked as a park ranger in CO. I get teased for occasionally delivering babies with a "prairie dog" hold….I have never been bitten though.

Thanh Luu
Medical School: Chicago College of Osteopathic MedicineUndergrad: University of ArizonaHometown: Phoenix, ArizonaHobbies: Travel, cooking, aggressive brunches. Basic foodie, beer-ie, wine-ie. Being a closet fatty.Interesting fact: I love trying new things including but not limited to violin, painting, gardening, dance, sarcasm. I'm basically terrible at all of them.

Sarah Bradley
Medical School: OSU COMUndergrad: SWOSUHometown: Springdale, ARHobbies: karaoke, exploring culture through travel and cuisinesInteresting fact: I can't snap my fingers or whistle

Lauren Chinnery
Medical School: Texas College of Osteopathic MedicineUndergrad: University of North TexasHometown: Kerens, TXHobbies: Concerts/Dancing/Tennis/BraumsInteresting fact: Requires AT LEAST 1 step stool in the OR at all times

Erin Showalter
Medical School: Alabama College of Osteopathic Medicine.Undergraduate: The University of Florida.Hometown: Clearwater, Florida.Hobbies: volleyball, college football, traveling, spending time with friends and my boyfriend.Interesting fact: I majored in Spanish and lived in Spain for 4 months in college!

Raquel Cardenas
Medical School: Oklahoma State Medical SchoolUndergrad: Oral Roberts UniversityHometown: Lakeville, MinnesotaHobbies: reading, watching movies, dancing, craftingInteresting fact: growing up I was on a kick line team

Justin Parks
Hometown: Tulsa, OKUndergrad: The University of TulsaMed school: OSUInteresting fact: I love doing yoga and eating Braum's ice cream. Really I'll eat any brand/flavor of ice cream. I just love ice cream.

Heather Pate
Medical School: Alabama College of Osteopathic MedicineUndergrad: The University of West AlabamaUniversity Hometown: Tuscaloosa, ALHobbies: traveling with my hubs, spoiling my husky (our fur child), running, weightlifting, and anything to do with the beachInteresting fact: I'm a self proclaimed cupcake enthusiast and can tell you the best places in town! Also, Roll Tide!

Hayden Fox
Medical School: Oklahoma State University College of Osteopathic MedicineUndergrad: Oklahoma State UniversityHometown: Edmond OKHobbies: My favorite hobby is tap dancing. Last year I placed first in an amateur tap dancing competition by performing my own adaptation of Sia's Chandelier.

Caro Haeusler Rossavik
Undergrad: OUHometown: Berlin, GermanyHobbies: Spending time with my husband, walking our 2 dogs, spending time outside, traveling, beach vacations, spending time with familyInteresting fact: I learned English by watching every season and episode of Friends 3 times in a row. How YOU doin'?

Heather Konsure
Medical School: Oklahoma State University, Tulsa, OkUndergrad: East Central University, Ada, Ok. Bachelor of Science degree in Biology w/ a minor in Chemistry.Hometown: Indianola, OkHobbies: baking, spinning, fishing, spending time with my familyInteresting fact: I'm a sunscreen enthusiast and am currently baking my way through The Pioneer Woman's cookbook!

Amanda Thorson
Medical School: Pacific Northwest University of Health Sciences, Yakima WAUndergrad: UCLA, go bruinsHometown: Los Angeles, CAHobbies: CrossFit, skiing, pickup basketball, trying new breweries, hanging out with my hubs and our dog Buddy, live musicInteresting fact: The first person to ever call me "Red" as a nickname was Michael Jordan when I met him at a basketball camp.

Jessie Sorelle
Medical School: Oklahoma State University College of Osteopathic MedicineUndergrad: Oklahoma State University - StillwaterHometown: Elk City, OklahomaHobbies: running, baking, coffee, travelingIntersting fact: 5 1/2 is both my glove size and my shoe size.

Cortney Booth
Medical School:Undergrad: Fayetteville school for exotic animal breedersHometown: ArkansasHobbies:In my spare time I breed and sell exotic reptiles. I usually go by Dr. Booth but my customers know me as Dr. Reptilio, Queen of the Reptiles.

Zachary Mullins
Undergraduate Institution: East Texas Baptist UniversityMedical School: Edward Via College of Osteopathic Medicine-Carolinas CampusHobbies: Disc golf, going to movies by myself, coffee, oh and spending time with my family.Interesting fact: I once ate 28 slices of CiCi's pizza in one sitting and didn't take a nap afterwards.

Frans Honig
Hometown: Menlo Park, CAUndergrad: California State University, ChicoMedical School: Midwestern University, Arizona College of Osteopathic MedicineHobbies: hiking, golf, board gamesIntersting fact: I am scuba certified, and a former apple genius

Kassandra Lichvar
Hometown: Westminster, COUndergrad: Arizona State UniversityMedical School: Midwestern University, Arizona College of Osteopathic MedicineHobbies: Cats, drinking wine, trail running, and exerciseIntersting fact: I hate my food touching! My family bought me plate separators so I would not have to use sectioned plates as an adult.

Lucas Myers
Hometown: Colville, WAUndergrad: Whitworth UniversityMedical School: Pacific Northwest University College of Osteopathic MedicineHobbies: I used to do exciting things before my girls were born, but now my hobbies include arts and crafts, waking up at 6am on my days off, unicorns, and listening to the shark song. I wouldn't change a thing.Intersting fact: I have eaten a rabbit's eyeball. It was like eating a disgusting gusher candy.

Braden Nelson
Hometown: Richland, WAUndergrad: Brigham Young UniversityMedical School: Kansas City University College of Osteopathic MedicineHobbies: Running, mostly recreationally (although I do enjoy racing 5 and 10ks), hanging out with my wife and son (going to parks, skipping rocks, etc.), reading (big Harry Potter fan), watching Survivor and Netflix/Disney+ (any Marvel movie).Intersting fact: When I was born my parents named me Kyle Braden. After a couple of months, they decided they had made a mistake and corrected my name to Braden Kyle.

Ann Tran
Hometown: Olympia, WAUndergrad: Western Washington UniversityMedical School: Midwestern University, Arizona College of Osteopathic MedicineHobbies: backpacking, cycling, climbing, cookingIntersting fact:

Amber Tsang
Hometown: Phoenix, AZUndergrad: The University of ArizonaMedical School: Midwestern University, Arizona College of Osteopathic MedicineHobbies: Spending time with family and friends, working out, retail therapy, exploring the world!Intersting fact: I can rap Eminem's "Mockingbird" by heart.
Salary/Benefits
| PGY 1 | $51,322.00 |
| --- | --- |
| PGY 2 | $53,069.00 |
| PGY 3 | $54,958.00 |
| PGY 4 | $56,952.00 |
| PGY 5 | $58,858.00 |
| PGY 6 | $61,055.00 |
| PGY 7 | $63,507.00 |
Benefits
Sick leave
Vacation leave
Employee medical/dental insurance at not cost to residents
Family medical and dental insurance available
Optional retirement program
Moonlighting available for fully-liscensed residents per program policy
Research opportunities available
Residents/Fellows will pay a portion of their monthly health insurance premium plan selected by the medical center.