Welcome to OSU College of Osteopathic Medicine
As a prospective student, your introduction to the Cowboy family begins during the recruitment process. As soon as you walk through our doors, you'll be greeted by friendly staff, faculty, or medical students. While you're on campus, you'll learn about the innovative curriculum taught by our faculty and clinicians from the healthcare community. If you're interested in returning to a rural or underserved community in Oklahoma, we're happy to tell you how to get there. During your visit, a Student Ambassador will show you the state-of-the-art hospital simulation centers, clinical skills, and osteopathic manipulative labs. Your experience is just beginning as a prospective student and we're excited to roll out the "orange" carpet to welcome you home.
At OSU-COM, we believe if you D.O. something good, you become something great.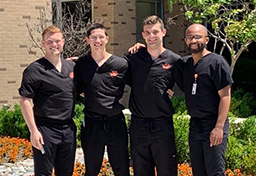 Meet OSU-COM Students at a Monthly Information Session
Choosing where to go to medical school is important. Being accepted to the right medical school is life-changing. OSU-COM hosts monthly Information Sessions for prospective students with a brief presentation, tour of the A.R. and Marylouise Tandy Medical Academic Building, and Q&A with our medical students. We look forward to showing you the OSU-COM difference.
Learn More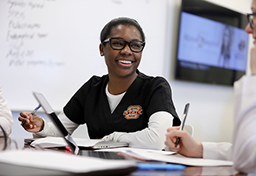 Student Advisements
If you'd like to schedule an advisement with our team to discuss your application or ask questions about our programs, we're happy to meet with you in-person, on a video conference or by phone. Find a date that works best for you and indicate your preference.
Learn More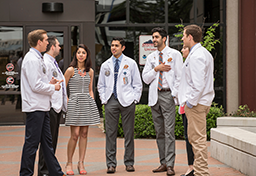 Campus Tours
Weekday campus tours are a great way to explore OSU College of Osteopathic Medicine. Your campus tour will be led by a medical school student ambassador. They're knowledgeable about OSU-COM and happy to answer your questions.
Email: emily.outhier@okstate.edu
Upcoming Events
OSU Medicine Virtual Events
This fall, OSU-COM is hosting virtual recruitment events for undergrad pre-medical students led by medical students, staff and faculty.

Each session offers a different opportunity to learn about different programs at OSU-CHS such as osteopathic manipulative medicine, how our academic success team is helping students succeed in medical school and much more!

Each session is conveniently scheduled during the lunch hour so register for one session or all of them! Grab a sandwich and be ready to engage with OSU-COM students, staff and faculty. Register today!

OSU-COM Virtual Lecture and Q&A
This fall, OSU-COM is hosting virtual recruitment events for undergrad pre-medical students led by medical students.
Prospective students are invited to virtually experience what a medical school lecture is like. Once the lecture is complete students will have the opportunity to discuss what they learned and ask medical students about OSU-COM.
OSU-COM is excited to share this opportunity with prospective students. Register today!

College of Osteopathic Medicine
About -
Academics -
Admissions -

Prepare for Med School -

Student Life -

Information For -